I was so excited because I was shopping at Wal-mart and while checking the polish section I found something fun!!! :) Usually my Wal-Mart is super slow at putting up new collections, but today I saw them putting up a new display of nail art products that wasn't already on my radar. Literally the lady was assembling the display and placing product. It was for a new collection from the Fing'rs brand called Heart 2 Art. There was so many new products! Here are a few things that I spotted. I felt really weird taking pictures because the lady was still assembling the display and it was in the middle of the walkway at Wal-Mart. So the pictures are blurry and I missed a lot of stuff too. I did all this so I could have something to post on here and Instagram! You're welcome!
They have some nail art tools including that dotting set and a set of nail art brushes too (not shown). So exciting! And if you ever wanted to try OPI Spotted they appear to have a dupe of that polish!
Dotting tool and polish set and a spotted polish set.
Stripping tape, nail stickers, glitter and nail accessories!!!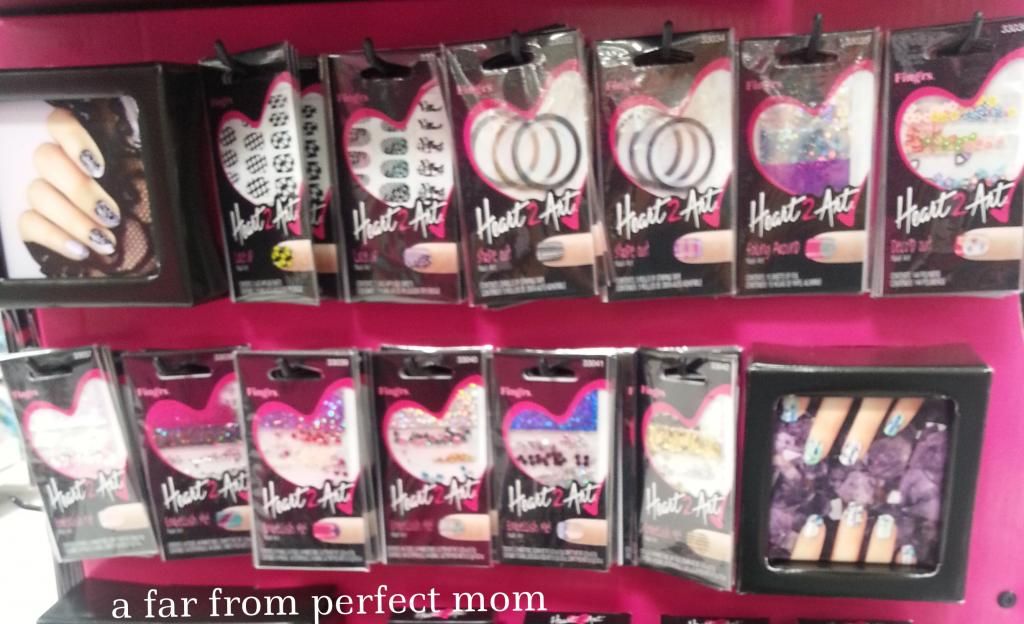 Nail art decals. They had some really cute ones!!
Nail Decals!
Nail Tattoos! How cool!!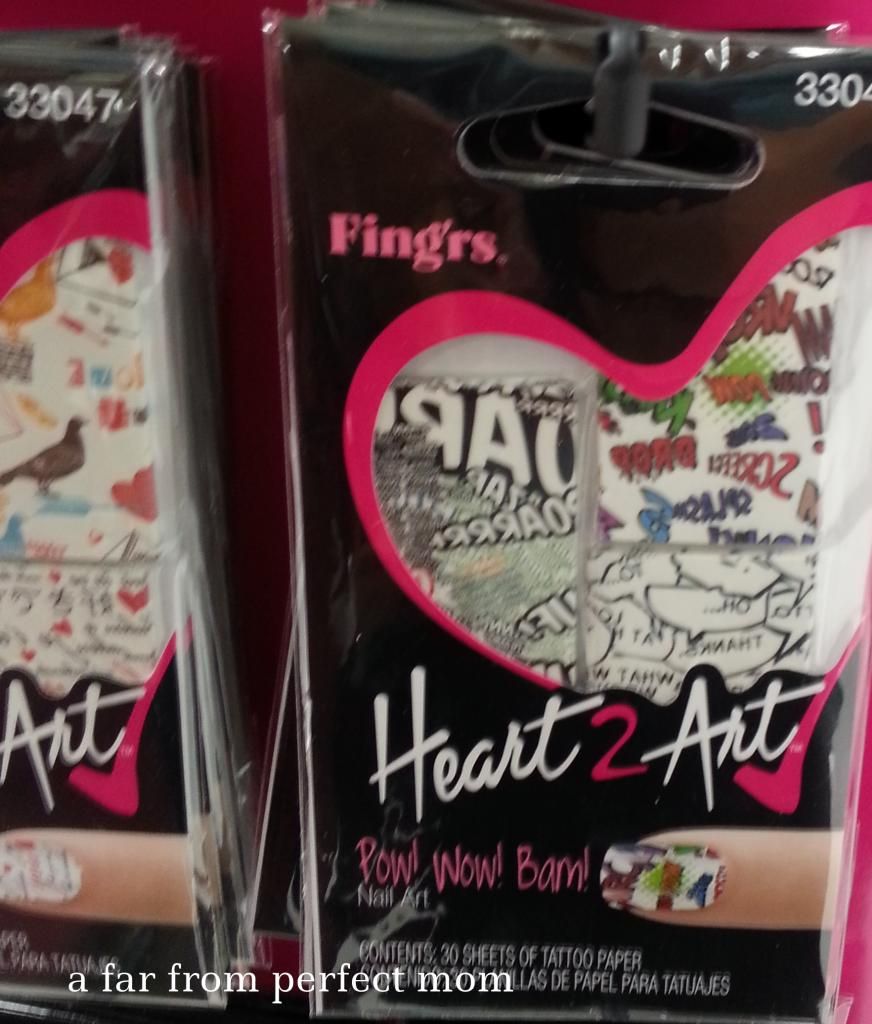 Nail Tattoos!
And polishes! I thought these were nail art polishes with a striping brush, but they weren't. Well at least the bottom row wasn't. And I spotted something interesting in this bunch. They had awesome looking glitter toppers! These polishes are on the small side, almost mini, 0.29 fl oz or 8.8 ml.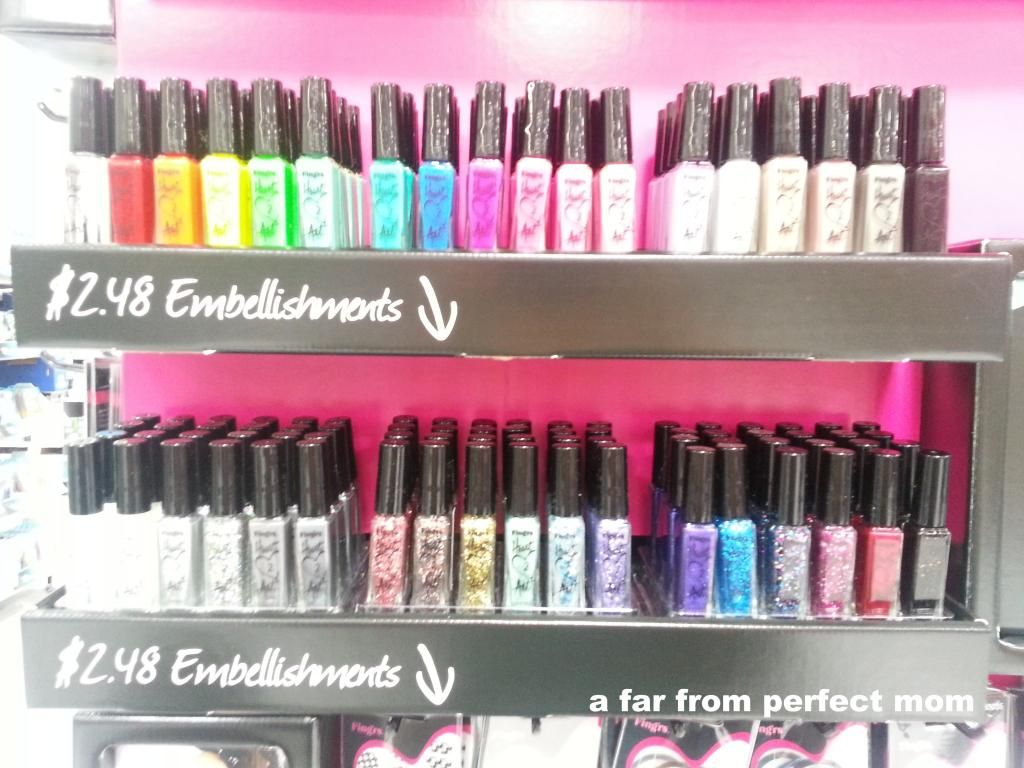 These are $1.68 not $2.48. The accessories under are $2.48 I believe.
These are the polishes I got at Wal-Mart. I didn't have Sinful Colors Mint Apple and that Salon Perfect Light My Fire looked stunning. Been seeing a lot of orange with gold shimmer polishes lately and I wanted one too!!! So the three Heart 2 Art polishes I got were (from L to R) Stop Metalling In My Business, V.I.Purples, and In Mint Condition. Now Stop Metalling In My Business and In Mint Condition appear to be dupes for Deborah Lippman's Wicked Game and Mermaid's Dream. Actually I'm not sure about Stop Metalling In my Business being a dupe, it is similar though. It looks like a grayish green with a purple duochrome polish.
My Wal-Mart polish haul.
Here is a close up bottle shot of In Mint Condition. I don't have the Deborah Lippman to compare, but it certainly reminded me of it! And after bringing this home I googled it and all the pictures make this look like a pretty good dupe.
Well, I decided to wear it as a mani. Here is my swatch of In Mint Condition. This is two coats. Thinner coats seem to work better with this polish. What do you all think? Dupe? I have looked at a dozen other swatches and this seems a little more dense with blue glitter.
Swatch of Heart 2 Art In Mint Condition
Confession. Every time I saw a swatch of this polish I kind of hated it. There have been some really good swatches that made the DL look kind of nice, but I didn't do that great of a job and I'm still not a fan. Lol! The polish hoarder in me just wanted a dupe of a high end polish. This polish was $1.68! I don't care that I don't like it!